Side hustles aren't only useful for generating extra income. You can develop new skills or sharpen existing ones, and you might even enjoy them.
According to a survey by Zapier, more than a third of Americans have a side hustle. 
Given the economic uncertainty of 2020, maybe that's no surprise. After all, a side hustle offers financial security in case anything goes wrong with your full-time job. But side hustles aren't only useful for generating extra income. There are two other practical benefits: 
You can learn and develop new skills (or sharpen existing ones). Later on, this could translate into new job opportunities or your own full-time business. 
A side hustle can actually be enjoyable, whether because it acts as a creative outlet or exposes you to new experiences. In this case, your side hustle may feel less like work and more like fun.
These perks make side hustles a lot more worthwhile, but not all gigs fit this mold. (For example, driving for Uber tends to be more tedious than fun or educational.) If you've got extra time and are interested in developing a meaningful side hustle, consider trying one (or more) of these ideas. 
1. Tutoring
Best for: Anyone with expertise or skill in a specific subject. Specialized knowledge about a difficult or complex topic few people know but that many are interested in learning is especially lucrative. 
If you think of tutoring only as for students or preparation for a major exam like the LSAT, think again. Teaching is the ultimate side hustle, partly because it's so versatile and there's always a demand for knowledge. 
For example, you could tutor people in a foreign language, give music lessons, or teach someone how to code. Having any skill or knowledge about a specific subject that someone finds valuable opens the possibility for tutoring.
You can also tutor in a few different ways, each with their own advantages and disadvantages: 
In person: Some level of travel is necessary, either for you or your client. However, this level of service often feels the most personal.
Online: You can teach virtually through a video call or even provide consulting services over the phone.

Live: You tutor or consult in real time, fielding questions from your student as they come up.  
Recorded: You create and record video lessons for students, which can be viewed anytime they'd like. This is especially helpful for reaching multiple clients at once.
If you choose the online route, you've got plenty of options to get started. Here are a few platforms where you can earn some extra income from the comfort of your home:
2. Personal training/fitness
Best for: Fitness enthusiasts who enjoy interacting with others and are comfortable giving direction. Patience and a willingness to teach are also important.
Personal training as a side hustle resembles tutoring in that you're also teaching someone, but it's generally more physical in nature and involves some liability. You can also be creative with this gig, as fitness comes in all kinds of flavors. For example, that could be teaching someone proper weightlifting form, leading a yoga class, or giving private tennis lessons.
For many of these, there are fitness certifications you can get to boost your credibility. These include:
A heads up: many accreditation programs cost anywhere from several hundred to a few thousand dollars. Since they're a big investment, this side hustle is ideal for those who are truly passionate about exercise and wellness. You don't technically need certifications to get clients, but they certainly help—and enable you to charge higher rates. 
3. Photography
Best for: People with an eye for photography—they understand good photo composition, perspective, lighting, and might even know the basics of photo editing. They also enjoy interacting with others and are comfortable giving direction.
If you love taking pictures, consider taking up photography as a side hustle. Since you can schedule mini photoshoots that last just half an hour, this gig has a lot of room for flexibility—and it's a great way to tap into your creativity.
Start out small, with low-stakes projects for people you're comfortable with. For example, offer to take photos at your niece's birthday party or new LinkedIn headshots for your friends. Depending on your initial skill level, you might not charge immediately. The goal here is to instead build up a portfolio of your photography work for different occasions. 
Consider using Instagram to set up your portfolio—it's an easy way to share your talent with your network and get word-of-mouth marketing started. Friends who didn't already know about your photography skills will find out and may think of you when the need for event photography comes up. You can also expand beyond your network by including relevant hashtags in your posts.
As you develop your portfolio and get more experience shooting for others, you can level up to higher stakes events and occasions, like graduations. 
Alternatively, you could reach out to local photographers and ask if they need an assistant. You may not get paid much, but take this opportunity as a chance to learn from a pro. Then you can use these insights as a solo photographer!
4. Selling homemade arts and crafts
Best for: People who love to make things. Major bonuses: organization skills and any background in packaging and shipping if you're planning on selling things online.
When it comes to monetizing your hobbies, Etsy is the ultimate craftsperson's dream. There's a lot of room for creativity here—just take a look at Etsy's listings.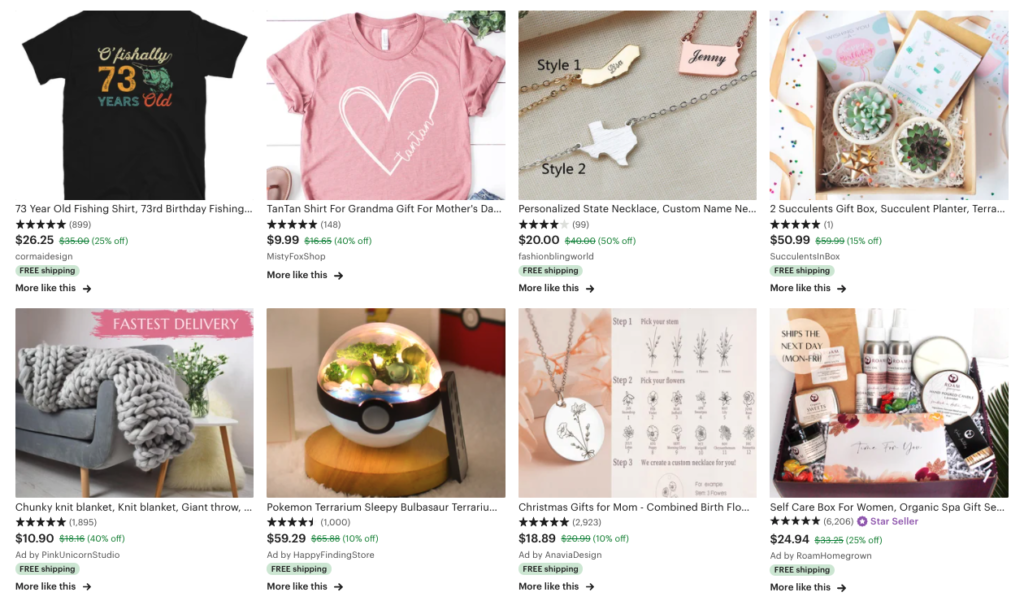 You'll see all kinds of homemade arts and crafts being sold successfully, including:
Jewelry made from clay, metal, etc.
Tie-dye apparel
Wooden items like shelves, storage containers, jewelry stands, and stools
Knitted sweaters, socks, etc.
Press-on nails
Digital downloads like sewing templates and bingo cards
In other words, if you can create it, you can probably sell it. 
Signing up for an Etsy account is probably the easiest part, though. One of the biggest challenges is getting buyers because most niches have a lot of competition. For better results, consider posting your products on social media and including links to your Etsy shop. As a marketplace, Etsy makes it easy to get started—but over time, if you want to level up your side hustle, you can always start your own website and online shop (this will require a lot more work, though).
Alternatively, if you want to sell in person, look for local boutique shops and pop-up events. Reach out to ask about becoming a vendor.
5. Baking
Best for: People who enjoy baking or cooking. Food photography skills are a plus.
School bake sales aren't the only way to monetize your baking skills. Consider starting your own baking business from home. 
We've seen this become a more popular side hustle during the pandemic, with talented bakers selling all kinds of goods—personalized cookies, cream puffs, donuts, and cakes, to name a few.
Here's how it works: 
You create a set menu of baked goodies. Starting out, consider specializing in one type of pastry rather than a wide variety. 
You then advertise your menu. We've seen this work well with dedicated Instagram accounts, where people share images of their delicious creations. Some bakers also post in local Facebook groups for foodies or on Nextdoor.
Set up a simple order form using Google Forms. This is how you'll collect orders. 
Arrange a local pickup location where buyers can meet you to grab their goodies. Alternatively, you can offer delivery—but this can be logistically challenging, especially if you receive a lot of orders.
Here's an example of one successful home-based donut business that sets a monthly menu and offers pickup and delivery on weekends. 
 

 

View this post on Instagram

 
To be clear, this side hustle requires some logistical coordination and setup, especially when it comes to getting your baked goods to customers and collecting payment. But for baking enthusiasts, it's a great way to share your talent with more people—while also getting paid for it!
6. Mystery shopping
Best for: People who have strong attention to detail and enjoy trying new experiences.
Compared to the other side hustles on this list, mystery shopping is more low-key. It doesn't require the same level of entrepreneurial investment as finding personal training clients or selling your creations online.
Instead, you need only sign up or apply to an established mystery shopping company. These companies are hired by major restaurants and retail brands for quality control reasons—they want to ensure that their restaurants and stores are delivering a good experience. It's up to mystery shoppers to investigate this by dining or shopping at one of these locations, and then reporting on it later.
Here are a few mystery shopping companies you can start out with:
Something worth noting about this side hustle: payment varies but it's usually not much. Oftentimes it's reimbursement for a meal or service, or a free product. Still, mystery shopping can be a fun way to experience new things you might not otherwise think to try. 
7. Freelance writing and editing
Best for: People with strong writing skills and enjoy both reading and writing. They're diligent and attentive to detail, and are good at managing their time.
Writing and editing services are in high demand, especially as more businesses move online and invest in content marketing. If you're a wordsmith who can stick to deadlines, freelancing may be the perfect gig.
There are a few ways to approach this side hustle:
Sign up for a content platform. There are many websites that connect businesses with freelance writers, like Upwork, Fiverr, and Verblio. Each has its own nuances; for example, some are marketplaces where you can set your own rates and bid on projects, while others give writing assignments and pay a standardized amount. Your earnings potential is generally very limited with these platforms (they take a cut), but they're an easy-to-use launchpad for freelance writing.
Look for freelance writing and editing roles on job boards. Browse job boards like Problogger and FreelanceWriting to find freelance and contract work you'd be interested in. Then apply, just as you would with other jobs. This can be tedious because it feels like the same grind as applying for full-time work, but because you're not working with any platform middleman, you have the potential to earn more. 
Pitch one-off articles or ongoing writing services to businesses that need content. This is the hardest route because it requires more upfront work: identifying companies that invest in content, finding their contact info, and then writing and sending a cold email. But compared to the other approaches, you could earn significantly more.
These approaches aren't mutually exclusive, but whatever you decide, consider first posting a few articles on Medium or a personal blog. You can use these as writing samples when applying to content platforms or freelance roles, or include them in your cold outreach to businesses. Over time, as you get more writing jobs, collect links to your work in an online portfolio like Contently or Clippings.me.
8. Online reselling
Best for: Bargain hunters and patient shoppers who enjoy looking through secondhand goods, or merchandise that others might discount as old and unwanted. 
Making money online isn't limited to only selling original products and services. You can also buy things to resell for a profit.
There are several ways to find items to resell:
Look through your own items to identify unwanted things of value. (You may not make back the amount you originally paid for something, but reselling at least gives you a discount on that original cost.)
Browse thrift stores like Goodwill or Salvation Army.
Check out local garage and estate sales.
Where can you publicize the things you want to sell? Thanks to the internet, you've got quite a few options: Craigslist, eBay, Nextdoor, Facebook Marketplace, Poshmark, and Depop.
Online reselling may not be as easy as some make it out to be, though. Here are a few challenges you should be aware of:
Finding good deals and pricing them appropriately. Before you buy anything to resell, do a quick Google search to see what it's retailing for. Also remember to inspect the item closely for any stains, holes, or other issues.
Storing the items you want to resell. This mostly depends on what exactly you're trying to resell. For example, a pair of matching nightstands might be a great find at an estate sale, but they take up more room than a vintage shirt or pair of shoes. You need ample room for storing these items for however long it takes to actually sell them.
9. Pet care services
Best for: Animal lovers or current pet owners. As a current pet owner, you've most likely already got pet food and supplies, as well as general pet care knowledge. For those interested in providing boarding services, having a yard or living near a park are especially helpful.
To hardcore animal lovers, pet care services might feel less like a side hustle and more like fun or pure animal therapy. Pet care services include walking, boarding, and training, and often apply to dogs (although other kinds of pet owners may need these, too).
To get started, you can sign up on a few different websites:
Alternatively, you can set up your own pet care service and advertise it locally. This is easiest for those who already know many pet owners or live in a community with many pet owners. You can also find new clients by advertising your services on social media and creating business cards to hand out to neighbors.
10. Makeup artist
Best for: People who know their way around cosmetics and enjoy interacting with others. They know how to apply makeup to enhance someone's best features and boost confidence. Photography skills are a plus.
Maybe you were the person your friends turned to for makeup help on prom night or before going out in college. Or you're the type of person whose YouTube recommendations and Instagram Explore page mostly show makeup tutorials because that's the kind of content you watch for fun.
If so, becoming a freelance makeup artist might be your ideal side hustle. Some people earn more than $2,000 a month doing makeup as a side gig!
Even better, you don't need to go to cosmetology school to pick this up. The best way to get started is by developing a portfolio of your work. Ask around your network for volunteers; do their makeup and then take photos. Before and after pics are especially effective because they show how you work your magic. 
If possible, partner with a local photographer to offer your services before a photoshoot. Other events you can do makeup for include weddings, showers, graduations, and fundraising galas. 
A note about doing makeup as a side hustle: Be prepared for some upfront investment to build out your makeup artist kit. You're going to need a decent amount of supplies, including a range of eyeshadows, lipsticks, foundations, plus brushes and other applicators.