Dating adds up, regardless of your marital status. If you're on the hunt for cheap date night ideas without breaking the bank, look no further!
Ever wonder how much dating costs?
According to a study by GiftCards.com, here's how much the average person spends on dating, based on relationship status:
| | | |
| --- | --- | --- |
|   | Per Month | Per Date |
| Single | $146 | $43 |
| In a Relationship | $139 | $44 |
| Married | $130 | $54 |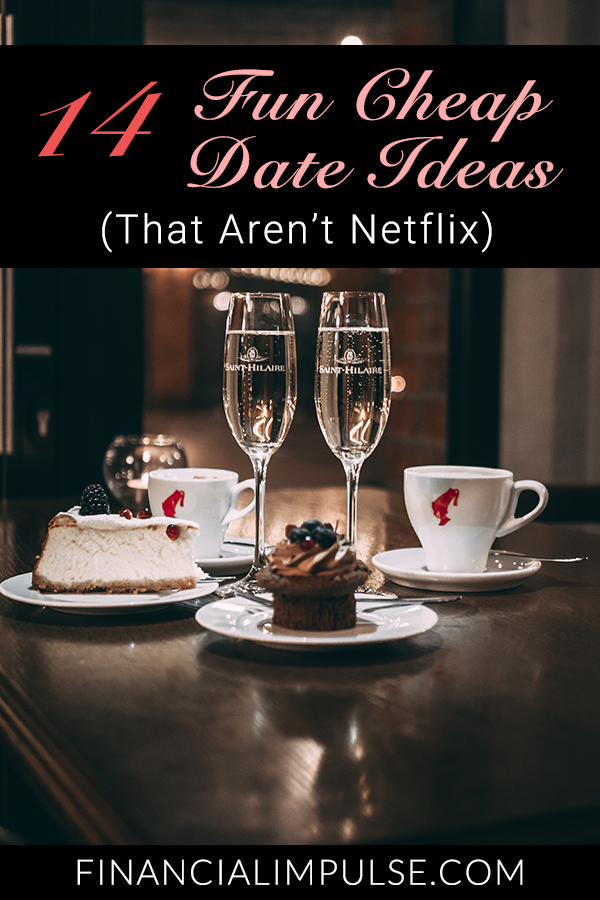 While married couples spent the least per date, singles spent the most per month. Why? 
Researchers suggest that it's a matter of frequency. Single people likely spend more because they go on more dates compared to married couples. People do say that dating is a numbers game, after all.
Regardless of your marital status though, it's clear that dating adds up. If you're on the hunt for cheap date night ideas without breaking the bank, look no further.
1. Make your own pizza night
Making pizza at home can be as easy or as challenging as you want. Either make pizza dough from scratch or buy it premade; then personalize it with the toppings of you and your date's choice. 
Try these recipes for DIY pizza dough: 
Don't forget to add a bottle of wine and/or dessert to complete the meal!
2. Check out free local events
Whether government-sponsored or community-created, most major cities have a website dedicated to finding and publicizing all of their free local events for a given weekend. This site is your best friend when it comes to finding new date ideas—just see what events are happening and check out those that picque you or your date's interest.
Local Event Calendars for 21 of the U.S.'s Major Cities
The free events available vary across cities, but common ones include concerts, festivals, art markets, and dance classes. Take advantage of these opportunities to get to know your city as well as your date.
"When it's summer and the weather is nice out, I like to look for cities that hold free concerts or movies in the park, and make it a picnic date," Jonathan Huang, the personal finance blogger behind Mr. Centsible, shares. 
"The bands are just local bands, so there's usually no pressure to focus on the music to 'get your money's worth,' as opposed to if you went to an actual concert with an A-list artist. This way, you can still spend time getting to know your date."
3. Go for a hike
Schedule some time to appreciate nature with your date by going for a hike. You can find an easy trail that'll take less than half a day, or a hard one that requires greater stamina from hikers—whatever suits you and your date's preferences.
Live far from anywhere mountainous?
No problem—try planning another outdoor-themed date instead. That could be visiting your local arboretum, botanical gardens, a state park, or nature center; these tend to be free or have relatively low entrance fees.
4. Take a mini road trip
"My boyfriend has a car and some weekend days, we like to just get up and drive somewhere (no directions necessary) and explore a new local town," Cassy Lombardi, Social Media Manager at Fairygodboss shares. "It's usually not expensive and can be really fun—or interesting!" 
And thanks to the wonders of GPS, you won't have to worry about getting lost or wandering too far from home. Instead, make the most of your mini road trip adventure by being spontaneous and exploring the unknown.
5. Volunteer together
Spend time meaningfully together by volunteering for a cause you and your date care about or are interested in learning more about. That could be:
Serving food or sorting goods at a food pantry
Participating in a local park or community cleanup
Walking dogs together at the local animal shelter
Besides spending quality time with your date, volunteering is purposeful and does good for your community. Not to mention, it feels pretty good.
6. Plan a street art scavenger hunt
If you live in an urban area, chances are there are plenty of murals and pieces of public art scattered throughout your community.
 

 

View this post on Instagram

 
Make a checklist of your city's most iconic (or lesser known) pieces of street art, and then work through it with your date. Check out each landmark in person, get a photo, explore the neighborhood nearby, and then move on to the next one.
7. Try making a new dish together
Here's a simple date idea but a classic:
Instead of going out to eat, stay in and cook a new dish together. 
Look up bold or unusual recipes with obscure ingredients or even challenging preparation instructions, if you're feeling brave. Then dive in with your date. Remember to put on some music and enjoy the process, even if the final product isn't what you expect.
8. Plan a picnic
Enjoy lazing around outside in a park over a nice picnic. It's a simple but effective date that can feel a lot more thoughtful and personal than going out to a restaurant—just remember to check the weather forecast and bring bug spray.
You've also got a lot of room for creativity when it comes to deciding what food to bring. Instead of the standard sandwiches and chips, consider packing:
Cheese and crackers
Sushi
Veggies and dip
Donuts
Sangria
9. Host a game night
Get competitive by spending a night in and playing one-on-one games. There are plenty of classic board and card games to choose from, like Connect Four, Bananagrams, and Battleship. Not only that, but many popular multiplayer games now offer two-player versions, like Rivals for Catan and 7 Wonders Duel.
Alternatively, if you'd rather work together instead of against one another, try a cooperative board game like Pandemic or Codenames Duet.
Of course, you can also make game night a double (or triple) date by inviting other couples and friends.
10. Go stargazing
If you or your date are into astronomy, consider a nighttime date of stargazing. You can plan around a meteor shower like the Perseids (which happens every year during the summer months) or any time you want to appreciate the beauty of the universe.
For optimal stargazing, find someplace with very little light pollution, and bring snacks.
11. Go out for dessert
Restaurant entrees can be pricey—in fact, research shows that the markup on restaurant food items ranges from 155% to 636%. 
So instead of going out for dinner and drinks, why not meet up with your date for dessert? Enjoy dinner at home together and then splurge on your favorite dessert, which will generally cost less than a restaurant entree.
12. Fly a kite
Before you write this date idea off, think: when was the last time you flew a kite?
Kite-flying isn't just for children or the young at heart. It's a simple and calming activity that can stir up joy and childhood nostalgia—not to mention, a chance to get some fresh air with your date.
To make things a little more exciting, you can find large, uniquely shaped kites for reasonable prices on Amazon.
13. Check out an amateur sporting event
Tickets for many professional sports can be very expensive, with NFL tickets costing the most on average. In fact, according to data from 2016, the average price for an NFL game ticket was $92.98, and the average premium ticket $277.29.
However, you can sidestep these costs by checking out smaller, independent sports leagues instead. Enjoy the thrill of watching live sports for a lower cost by considering tickets for these games and matches:
American Association of Independent Professional Baseball
American Hockey League
Arena Football League
Minor League Baseball
NASCAR Xfinity Series
Wikipedia also offers a list of top-level minor league sports teams in the U.S. by city.
14. Get a Groupon
Maybe you want to stick a classic date idea—dinner and a movie, for instance, or something else. Whatever it is, these activities have an easy way of adding up financially.
Fortunately, Groupon's there for you. The platform partners with local merchants for all kinds of deals, including perfect date night activities. Find great date ideas for slightly more affordable prices, like:
Restaurant deals
Dave & Buster's
Bowling
BYOB painting
Movie tickets