Thinking about signing up for a coding bootcamp? It may help your career prospects, but it's not for everyone.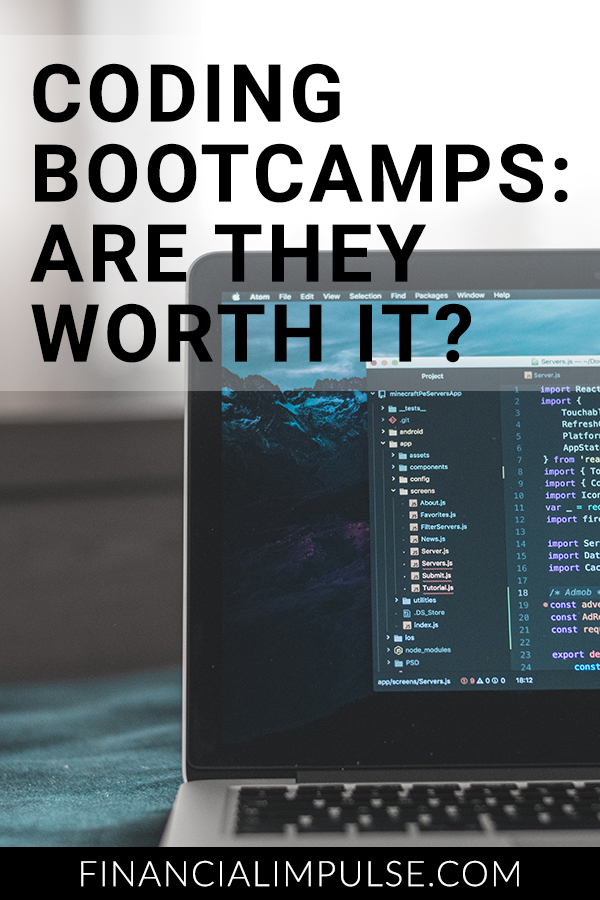 Financial Impulse's "Is It Worth It?" series takes a close look at high-cost items and experiences with the mission to break down their costs and benefits.
This post may contain affiliate links. Please see our disclosures for more information.
Chances are you've seen an advertisement for a coding boot camp in the last year or two. Maybe you've even considered one, what with the rising tech industry and growing demand for developers.
But coding boot camps generally come at a steep price, with most programs charging several thousands of dollars for their intensive training.
Are they worth it, though? When you're unsure of whether these programs will actually pay off, signing up is by no means an easy decision.
Quick Links
Coding Boot Camps: Overview
Coding boot camps are intensive software development training programs that prepare students from diverse backgrounds for careers in the tech industry. The first boot camp launched in 2011, and has since then inspired over a hundred similar programs in what has now become a $240 million industry.
Originally, coding boot camps consisted of in-person programs with full-time or part-time coursework. However, in recent years, online boot camps have emerged, allowing students to take part remotely.
Side note: Although these programs are commonly known as "coding" boot camps, their course offerings typically include other subjects like UX, UI, and data science. For the purposes of this article, we will continue referring to them more broadly as "coding boot camps" and specifically discuss coding and software development courses.
How much do they cost?
According to Course Report, the average full-time boot camp costs $13,584.
Remember that this is just the average—with dozens of options to choose from nowadays, cost varies substantially. In fact, in less than a decade after the first boot camp launched in 2011, more than 100 in-person and remote programs have opened across the U.S.
Here's a look at the cost and duration of some of the major coding boot camps.
It's also worth noting that although most coding academies have an upfront payment option, some offer an alternative payment plan, in which you pay for your tuition after graduating. This might be a static amount that's greater than pre-graduation tuition, or it could be a certain percentage of your post-graduation salary once hired.
Benefits of Attending
Curious about what joining a coding boot camp might do for you? There are several large benefits, most of which relate to your professional outlook.
You'll learn a new skill relevant to a growing industry.
It's no secret that tech professionals are in high demand.
The past several decades have seen tremendous advances in technology, including the rise of cloud platforms, automation, and artificial intelligence—and yet there's still more to come. As a result, the tech industry is thriving.
So is the demand for tech professionals. In fact, according to the Bureau of Labor Statistics, jobs in software development are projected to grow by 22% from 2020 to 2030.
And with a median annual salary of $110,140, it's no wonder why so many people are considering major career and industry changes to tech.
Of course, the skills needed for a job in tech don't come easily. Though it's possible to teach yourself to code, many prefer having a set curriculum and an instructor for a greater sense of accountability—making boot camps an ideal choice.
Bootcamp will enhance your career prospects.
On a related note, far and away the largest reason many people choose to sign up for a coding or programming boot camp is its impact on career prospects.
Zach VanSomeren, married to the blogger behind Science Finance, shares that he decided on signing up for a coding boot camp after graduating with a degree in Construction Management and realizing he didn't want to work in the field.
Although it "seemed like a lot of companies were gearing down in their hiring process" at the time, VanSomeren's job hunt after graduation lasted three months—shorter than the average job seeker's.
"For the most part, I was left to my own devices for finding available jobs and places to apply," VanSomeren says. "[Then] my Bootcamp instructor heard about a hiring fair from a General Assembly alumnus and it was available for me to go to. That ultimately led to me getting a job."
Prior to the boot camp, VanSomeren earned $70,000 annually as an entry to mid-level construction manager. Now, he works as a software development engineer earning $100,000 a year—a career switch that came with a 40% raise.
You can make a relatively quick career change.
Bootcamp graduates generally move into a new line of work on an accelerated timeline.
With an average duration of a little more than three months, signing up for and completing a coding school course takes just a fraction of the time required by traditional two- or four-year degree programs.
Because of this—as well as boot camps' relatively cheaper cost—some people are opting for coding academies in place of college.
Whether this is advisable is up for debate, as traditional college degree programs offer a whole host of benefits. However, for those looking to avoid large amounts of student debt and yet gain lucrative job skills, coding boot camps provide a more cost- and time-effective alternative.
Criticisms of Coding Bootcamps
Coding boot camps don't come without their fair share of naysayers.
In fact, many critics have written blog posts and articles in the effort to dissuade potential students—or to at the very least, give them a better idea of what to expect.
Here's what they focus on the most.
Bootcamp facts are misleading.
Most boot camps are quick to tout their graduates' impressive hiring statistics as evidence of their success.
However, as some observers note, boot camps tend to overstate their graduates' actual hiring outcomes. According to Abi Noda, former CTO of Dev Bootcamp, many programs use "manipulative formulas" to substantiate claims of near-perfect hiring rates.
This is false or misleading advertising at best, which unfortunately tricks paying customers into believing that they'll land a programming job immediately after graduation.
Thus, while it's true that coding academies can change your career trajectory, prospective students should not expect some professional Cinderella transformation.
Although employers largely approve of hiring coding academy graduates, 41% would still prefer to hire applicants with computer science degrees if given the option. Moreover, 17% feel that boot camp graduates are not as prepared or are less likely to perform as well as candidates with computer science degrees.
There's more to coding than, well, coding.
The boot camp industry has pushed a narrative that anyone can code, and thus can and should pursue it for its financial opportunities.
Unfortunately, this narrative downplays the challenges of coding and its larger goals. As blogger and software developer Jeff Atwood writes, "Software developers tend to be software addicts who think their job is to write code. But it's not. Their job is to solve problems."
Similarly, developer Mike Hadlow says that boot camps paint coding out to be a piece of cake when it actually isn't. In Hadlow's words, you're more likely to succeed in coding "only if you have the aptitude for it. The harsh fact is that most people will find it impossible to get to any significant standard."
In other words, you need curiosity and a genuine interest in problem-solving in order to successfully code. Otherwise, you may find yourself working in tech for the wrong reasons—and struggling.
There are cheaper/free alternatives.
Spending thousands of dollars on a coding boot camp isn't the only way to learn how to code. It's also possible to learn on your own.
Granted, teaching yourself requires immense discipline and commitment. If you want to give it a shot, though, there are plenty of programs that offer free or relatively inexpensive coding curricula, including:
Or, if you prefer a little more guidance and structure, you can find shorter, more inexpensive courses, many of which do not require prior experience in coding.
For example, digital analytics manager Maggie Wolff took a one-day Python coding workshop at General Assembly for $195, which her employer covered.
"It's meant for people who are new to Python, and while you don't need a coding background, it does help to have some familiarity with how to think about code because the pace was pretty quick," Wolff shares.
Can taking a few of these courses quickly translate into expertise? Not quite. Wolff elaborates, "I think it's good for people who need some exposure to Python or coding, but if you want to actually be able to bring that skill to your employers or as a side hustle, you need a lot more than 6 hours."
So while taking classes of this nature can help establish a foundational background, you'll need to build upon it further through additional coursework.
Additional Considerations
Besides weighing the good and the bad of coding boot camps, here are a few additional points to consider.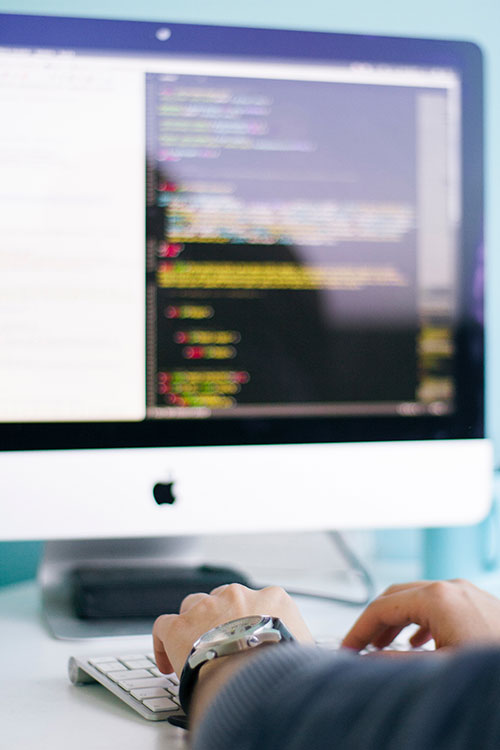 Shorter programs can give you a taste of whether coding is for you. If you're still on the fence, it may be worth trying out a one-day course to test the waters instead of committing to a full-time course right away. Describing her one-day Python coding class, Wolff says, "I think the one-day workshops are a great introduction for someone brand new to coding. However, I don't think they should expect to come away with a thorough knowledge or skills they could bring to the workplace. I think it's enough to provide a taste if you'd like to continue on to a longer boot camp class."
Your current employer may be able to pay for your course as a form of professional development. Riley Adams, CPA and blogger at Young and the Invested, took a 12-week web-based course about Python, Pandas, NumPy, and SQL through Codecademy Pro Intensive. "The training was partly useful for landing my current job in pricing analytics at a public utility," says Adams. "Prior, I was working in the company's investor relations department… My salary increased by 10% on account of the move." The best part? His company covered the course because it was "qualified training" for the role. If the nature of your job is related, it's worth seeing if your employer can pay for your course or reimburse you.
Final Verdict: Are Coding Bootcamps Worth It?
With an average cost of $11,900, coding boot camps are a hefty investment. While it's paid off for many, both observers and experienced alumni are careful to warn: it's not for everyone.
And as a relatively new form of education and business, coding boot camps aren't perfect. Their quality varies, and they can mislead customers about the challenges of programming and software development. If you're still interested, do your research on different schools and consider trying free trials or short-term courses first.
Are you thinking about doing a coding boot camp? If so, what programs are you looking at, and how did you narrow down your options?