Costco is a retail haven for anyone looking to stock up on goods. But since shopping there comes with a membership fee, when is Costco worth it?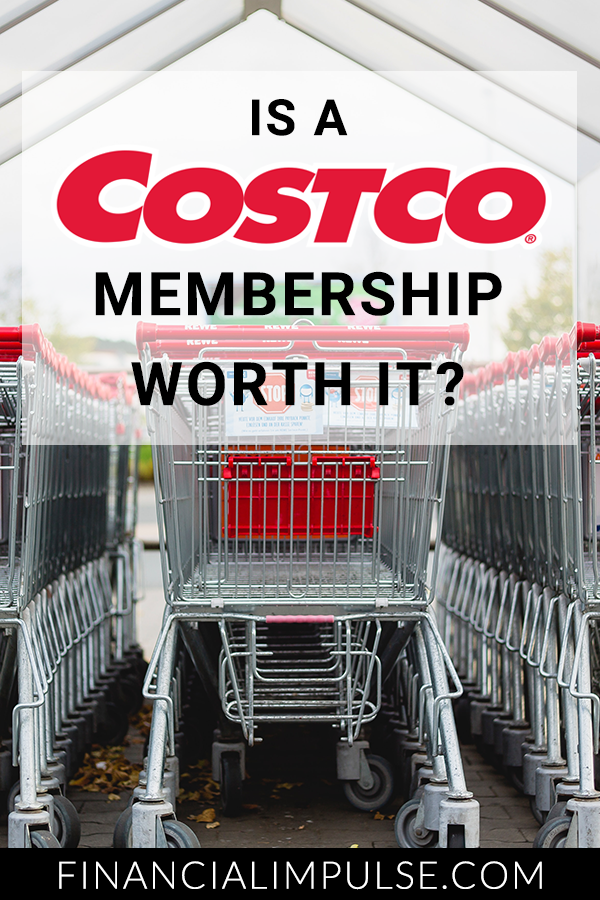 Financial Impulse's "Is It Worth It?" series takes a close look at high-cost items and experiences with the mission to break down their costs and benefits.
This post may contain affiliate links. Please see our disclosures for more information.
Whether for practical reasons or bouts of overindulgence, Costco is a retail haven for anyone looking to stock up on goods.
But given that membership comes with a hefty price tag, is shopping at Costco worth it? What are the benefits of shopping there instead of Walmart or your local grocery store?
In short, Costco is worth paying for if you have specific shopping needs or a large household (including pets)—but you'll want to consider a few other factors before deciding whether or not to join.
Table of Contents
Costco Membership Fee Pricing
Costco offers four types of memberships that vary in pricing and offerings:
Gold Star: $60

Includes one household card valid at all Costco locations around the world

Gold Star Executive: $120

On top of Gold Star benefits, includes extra benefits and annual 2% reward on eligible Costco purchases

Business: $60

Includes one household card valid at all Costco locations around the world, with the ability to add members for $60 each and purchase goods for resale

Business Executive: $120

On top of Business benefits, includes extra benefits and annual 2% reward on eligible Costco purchases
In addition to these four plans, Costco offers special discounted memberships for college students and military members and veterans.
When is a Costco membership worth it?
Membership at Costco isn't ideal for everyone; some are better off at their local Safeway or Stop and Shop. However, you may find a Costco membership worth it if…
You have a large household
For large households—that is, four or more people—shopping at Costco is a no-brainer given its wide selection of bulk goods. You can easily get more bang for your buck by stocking up on common household items like:
Detergent
Toilet paper
Toothpaste
Diapers and baby wipes
What if your household is much smaller? It's still possible to maximize a Costco membership for as few as two people, but that may involve strategies like meal planning and splitting your membership with another couple.
You value organic products
Costco sells so much organic produce that it actually surpassed Whole Foods in organic food sales in 2015. Among its most popular organic products are:
Milk
Eggs
Produce
Canned food
Meat
You own a pet
According to Petfinder.com, feeding a dog or cat can cost anywhere between $120 and $500 a year. Prices vary significantly between brands, but Costco's Kirkland brand of pet chow is known for being among the best in both quality and price.
According to Costco member and dog mom Jolie Bee, "Kirkland's dog food rates a 4 out of 5 on the quality dog food scale, and costs less than $30 for a 40-pound bag. In one visit, just buying dog food makes up our annual fee. Costco also has American-made treats and awesome dog beds."
You're looking for other lifestyle deals in general
Besides its inventory, Costco offers a variety of deals outside the realm of groceries. That includes:
Auto, home, and life insurance
Bottled water delivery
Business services like printing and phone service
Rental car and other travel deals
Asked about the benefits of being a Costco member, Rachel Newcomb shares:
"We have the Costco credit card, which makes the membership pay for itself; plus, you get rebates every so often. We get gas there and it's cheaper than all the other gas around. We have our tires from there, too. Finally, and strangely enough…we refinanced our house through their affiliates, and the rates were the lowest I had been able to find anywhere."
You don't have time to shop around
Some shoppers consider Costco the perfect one-stop shop for all their needs—electronics, eyewear, clothing, furniture, and even Christmas presents.
And given its wide inventory of brands and items, it makes sense. For those with busy schedules, Costco makes for a convenient centralized shop for all of your lifestyle and household needs. In other words, you can buy groceries, clothes, and even glasses in the same place instead of having to go anywhere else.
Additional Considerations
A Costco membership certainly comes with its fair share of perks, but that doesn't make it a great deal for everyone. Consider these factors before deciding whether or not to become a member.
Your eye for coupons and sales
For certain products, Walmart and local grocery stores offer a lower price per unit.
For example, a quick look at Walmart and Costco's online stores reveals:

Walmart

Costco

Total Cost
Cost Per Unit
Total Cost
Cost Per Unit

Kikkoman Soy Sauce

1 gallon for $11.22

8.8 cents per ounce

2 quarts for $6.49

10 cents per ounce

Folgers Classic Roast Ground Coffee

48 ounces for $9.96

20.7 cents per ounce

51 ounces for $11.99

23.5 cents per ounce

Multi Grain Cheerios

18 ounces for $3.64

20 cents per ounce

37.5 ounces for $8.29

22 cents per ounce
While a few cents may not mean much at face value, the difference in cost per unit can quickly add up.
What's more, if you're a savvy couponer, you may find that coupons and sales available at other stores can mean cheaper prices elsewhere. (Costco does not accept standard manufacturer coupons.) By using grocery coupons from Coupon Surfer and your local newspaper, you can get more from other stores—and all without paying an annual membership fee.
Your proximity to the closest Costco
Over 500 Costco stores are located across the U.S., particularly in metropolitan areas and major cities. However, several states do not have any Costco locations, including:
Arkansas
Maine
Mississippi
Rhode Island
West Virginia
Wyoming
Additionally, in some areas, the closest Costco may be over an hour away by car. Find out where your closest Costco is with the site's warehouse locator.
Needless to say, if a Costco store isn't within easy reach, it likely isn't worth getting a membership. Of course, some shoppers argue otherwise, and despite visiting Costco only a handful of times per year, they stock up heartily to make the most of each shopping trip.
Your home's freezer and storage capacity
How much freezer and pantry space does your home have? Costco offers great value with its bulk items—but only if you have enough room to store everything.
Savvy Costco shoppers freeze perishable items they know they won't be able to finish by their respective expiration dates—but the ability to do this is ultimately contingent on whether you have the freezer space in the first place. If you live in a smaller apartment or home, it may be difficult storing all of your bulky Costco purchases.
Your shopping tolerance
Costco isn't for everyone, as convenient or worthwhile as its deals may be. While its endless free samples may delight some, its long lines and crowded aisles can be a nightmare, especially on weekends.
One anonymous shopper shares:
"I see why Costco makes sense to people with kids and larger families. But it's just too much for me. It's just me and my husband so we'll never consume the amount of food that comes in the packages at Costco. On top of that, the experience stresses me out. It's chaotic, the checkout is insane, and everyone seems like they are prepping for doomsday. It's just an awful, dreadful, terrible place."
Of course, it's worth noting that some shoppers now bypass Costco's membership fee and shopping experience by using online delivery services. Through apps like Instacart and Google Shopping, you can forego Costco's membership and shopping experience but still enjoy its cost-effective deals.
Conclusion
So is it worth it to get a Costco membership?
Yes and no: a Costco membership isn't for every household. When making this decision, you'll want to consider a variety of factors, including:
The size of your household
Specific shopping needs, e.g., organic food or pet products
Your proximity to the closest Costco
Your home's freezer and storage space
Some Costco shoppers are diehard fans, but the membership itself isn't always worth paying for. Depending on your shopping preferences and needs, your grocery budget is better off being spent at Walmart or your local supermarket.