There's a retirement savings gap between men and women—but narrowing and closing it could benefit everyone.
In 2022, March 15 marked Equal Pay Day—the symbolic day of how far into the year women must work in order to earn what men earned the previous year.
Unfortunately, it's not quite as straightforward as it seems. That's because this single day doesn't account for differences in pay based on race, which further affects how far into the year women must work to achieve equal pay. In fact:
For black women, Equal Pay Day falls on September 21.
Native Women's Equal Pay Day is December 1.
Finally, Latinas' Equal Pay Day is December 8.
The existence of Equal Pay Day itself underscores the reality of the wage gap, which more than a quarter of Americans shockingly believe is a myth.
But the very real wage gap has unfortunate concrete ramifications—for starters, the disparity in retirement savings between women and men.
The Retirement Savings Gap
If you're skeptical of the retirement savings gap between men and women, there's plenty of data supporting its existence.
Take a look:
Why does a retirement gender gap exist?
The savings gap can be attributed to a confluence of mostly social factors, namely the following four.
It's fair to say some, if not all, of these factors are changing—but they're still very much a work in progress.
What about gender differences in investing?
Some research suggests there are gender differences in the ways men and women invest, albeit with conflicting results. At a professional level, it appears that male- and female-managed funds face comparable outcomes, although the decision-making behaviors between them varies. Individually, the findings are hazier.
For one, there's the longstanding conception of women being more risk-averse and conservative than men.
But more and more social scientists are challenging this idea.
For instance, research by Betterment suggests that women are less prone to changing their asset allocation in automated portfolios. This theoretically makes them more successful at long-term investing. Similarly, a study by Fidelity found that women marginally outperformed men by 0.4% in their investments.
Yet in spite of these findings, women continue to report feeling less confident about their investing choices than men. Whereas 68% of men feel confident about managing their assets, only 52% of women feel similarly.
Confidence certainly does not translate into competence, of course, but a shortage on confidence can translate into negative outcomes. Consider, for example, someone who's competent in investing but lacks confidence; they might be more easily persuaded into buying financial services they don't need.
Why do people need to know about this savings gap?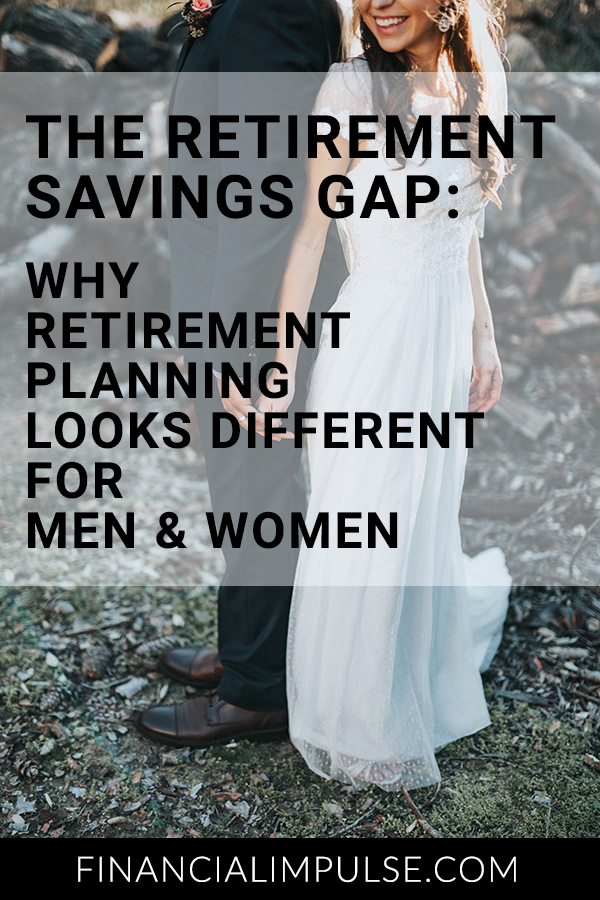 The obvious reason: knowing about this gap is important for retirement planning.
There are a number of online retirement calculators that help estimate how much is needed for one to safely retire—AARP, Vanguard, and Bankrate, to name a few. But as helpful as these tools are, they generally aren't nuanced enough to account for the gender gap in retirement savings.
That means people who base their retirement goals on the results of these calculators may be underestimating the total amount needed for a secure retirement.
But knowing about the savings gap isn't important only for the sake of retirement planning.
Like the champagne glass distribution of wealth, the retirement savings gap is another example of wealth inequality. Being aware of it is important for framing larger social and political discussions as well as shaping personal finance education in the future.
In spite of the abundance of research and data, there are skeptics, made up of both men and women, of the gender wage gap and its larger implications. However, the more people who are aware of these disparities, the more steps can be taken toward creating policies and initiatives that benefit both genders, e.g., family leave policies.